December 6, 2013 |
| 0 Comments

Cryptolocker is one of the nastiest viruses out, and we've been doing our research to make sure to stay ahead of it.
Cryptolocker Update
If you missed our original post here it is. CryptoLocker – The latest, and most dangerous, virus.
If you see the image below your computer is being held hostage and cryptolocker is demanding a ransom.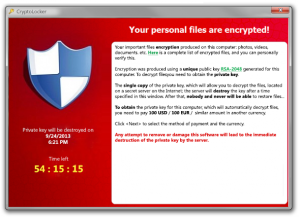 It's important to stay calm and put forth preventive measures to protect your devices. Understanding how this nasty ransomware is contracted is important.
How Does Cryptolocker Infect Your Computer?
Cryptolocker is usually sent to a company email with a topic of  "Customer Support Related Issues"  from companies like Fedex, UPS, or DHS. Knowing who, what, and where emails should be coming from is important.
Preventative Measures Against Cryptolocker Ransomware
First, make sure to avoid downloading unknown attachments from your email. This step will prevent a large majority of issues such as ransomware, virus, malware being infected on your system. It is also strongly suggested that you secure all open shares for AntiVirus and Malware protection recommendations consult with our certified technicians. You can do this by only allowing writable access to the necessary user groups or authenticated users. Most important is to make sure your anti-virus and malware programs are up to date. Common anti-virus programs are often a target so companies like McAfee and Norton may not be as good as you think.
Basic Tips After Cryptolocker Infection
Remove your computer from the wireless network. Because this ransomware has control of your system it not only can continue running while connected to your wireless it can also infect other computers on your network. Consult a Professional Computer Repair Technician as soon as possible. Because this is time sensitive it's important that you get this to a professional in a timely manner.
Should you pay the ransom?
This is the window where cryptolocker says if you pay the ransom you can return the files, but we've done the research and find that the return of your files is not always the case.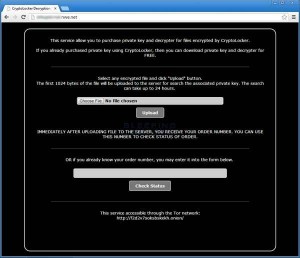 Paying the ransom has had some reported issues and should you trust something that just held your computer ransom? The answer is no.
If you don't want to give into cryptolocker, Fix my PC Store can provide removal that does not give into cryptolockers ransom.
We handle all types of computer repair such as:
Give us a call, stop by, or follow us on Facebook!