February 14, 2013 |
| 0 Comments

FBI Virus Scam
The FBI virus (also known as FBI Moneypack virus or Citadel Reveton) is a type of ransomware (a subcategory of spyware) which makes use of the Trojan Ransomlock R to lock down your computer systems. Being disguised as FBI, this virus claims that your computer was recently involved in an illegal activity (download or distribution of copyrighted material, access to child pornography, and so on), and demands you to pay a fee of $100 (or $200) in order to regain access to your computer. The virus asks you to pay via Moneypak cards in a maximum of 72 hours, threatening you with jail time in case you fail to comply.
Please note that this virus is spyware, and the claims that you see on the FBI page are not real. Therefore, you are in no trouble with FBI or other security departments. What's more, paying the fine via Ukash vouchers or Moneypack cards would only make the matter worse, since at the time you're finished entering your activation number, the virus opens your computer's gates for further intrusions. This is why the FBI spyware is so dangerous. (Image courtesy of http://botcrawl.com)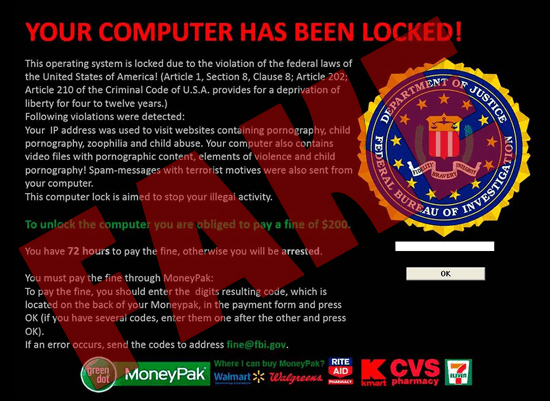 Web Cam Control
Besides the fact that it locks down your computer, hence denying your access to the PC's desktop or internet, the FBI spyware is also capable to take control of your webcam. The counterfeit FBI page clearly displays a video screen on the top-left part which is associated with your webcam. Even if your camera is not currently connected, that video screen will still appear as recording, with the only exception that it will be entirely blank instead.
FBI Virus Variants
There are plenty of different variants regarding the FBI spyware, and each one displays a different fake screen. But although the FBI claims, warnings and notifications are dissimilar, the removal steps for the virus are mainly identical.
Standard Moneypack Virus
The most popular version of this virus demands users a payment of $100 in exchange for the restrictions to be lifted. Of course, even if you choose to pay the fee, the restrictions will still remain in place.
New Variant – FBI Online-Agent Virus
This is the second most popular edition of the virus. It states that your computer was locked for security reasons on the base of un authorized cyber-activity. The possible violates which you might be accused of are the following:
Copyright – Article 274
Sanctioned with a fine / imprisonment of maximum 4 years (for using/distributing copyrighted files – software, games, movies).
Pornography – Article 183
Sanctioned with a fine / imprisonment of maximum 2 years (for the use/distribution of pornographic content).
Children pornography – Article 184
Sanctioned with an imprisonment of maximum 15 years (for the use/distribution of pornographic material involving children).
The virus will ask you to pay a $200 fine, although the accusations are fake.
New Variant – FBI Ultimate.Game.Card
The newest version of FBI spyware which was just released uses the Ultimate Game Card pay-by-cash system. This new ransomware doesn't typically hijack your webcam settings.
New Variant – Department of Justice/FBI-Black-Screen-of-Death Spyware
This variant of the FBI spyware typically shows you the federal warnings framed by an entirely black screen. It will usually charge you with a $200 fine, but it doesn't gain access to your webcam.
New Variant – FBI.Audio.Virus
A new version which just hit the market is the FBI Audio one. Instead of showing you the standard notifications and warnings on-screen, it will stream them through audio instead. Thus, you'll hear that "your computer got locked by FBI on the accusations of…". This version is also referred as the Black-screen virus, FBI song, FBI sound virus, and other names of this type.
Please note that FBI virus is mostly popular throughout the U.S., but other countries also present variations of it, such as "Canada police", "Romania police", and so on. Other similar ransomware names which you might stumble across are the International Police, FBI DNS Changer, Citadel Reveton, US Cyber Security Virus, Central Police unit, etc.
"Anti-Malware Not Functioning"
A Facebook user recently posted the following comment: "The FBI Moneypack killed my Malware Protection Software. It's morphing and getting really hard to remove. It kicks ass on antivirus! It removed my security software from my system. I supposed my software tried to grab it but it killed the wrong processes instead! Boo Hoo. I wish somebody out there was smart enough to conquer this thing."
The above user could be you. If you see signs of a FBI Virus Scam call Fix my PC Store immediately to eliminate the ransomware and prevent any further damage.
Removing the Virus
If you've encountered the virus and need it removed, it is best to have a professional removal service performed unless you are 100% confident in your ability. Important data can be lost during removal if not done properly. Fix my PC Store offers safe and secure virus removal as well as data recovery services.